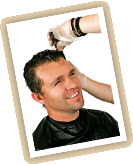 Welcome
We offer "Groom the Groom" packages. Contact us for more info.
Today's competitive business environment requires every advantage. The professional man is more confident when they look their best.
The Male Room is Birmingham's ultimate grooming experience for men of all ages. From the moment our male customers walk in the door they recognize this is not the typical hair salon. From the rich, dark wood to the comfortable, king-sized leather chairs it's easy to recognize that The Male Room, at least in regards to hair care, is uniquely male. The entire Male Room staff is specifically trained to cater to the grooming needs of men.
Even our receptionists are cosmetology trained to further ensure our customers receive the care they deserve. This includes, but is not limited to matching our customers with the stylist best suited for their specific needs. Brittany, Devin, Jackie and Sarah help the shop run on schedule which means customers spend little time waiting and more time enjoying the experience they came in for. Whether they are booking appointments or serving a complimentary beverage you are sure to experience their friendly and caring spirit.